News from the track:
Friday 10 Feb 14:00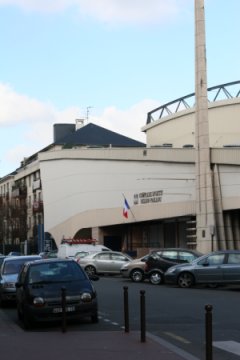 Here we are in Paris. Its a beautiful, but rather cold early Spring day outside and here we are in a sports hall, carpeting the pits and hooking up the power. No sign of an Internet connection, the person who will set this up will be here at 16:00. Lets hope so otherwise you won't be reading this!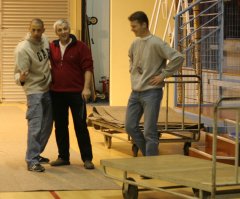 We have to be clear of the hall later this afternoon as there is a Volley Ball Session training booked. We get back in later tonight to set up the track. The doors open at 07:30 tomorrow morning and by then there will be a track set up. It could be a long night.
Timed Racing starts on Saturday at 08:45 and finishes at approximately 21:30. There's no time to see the sights or Paris and we are back at the crack of dawn on Sunday to finish the Heats and the Head To Head Races, run Finals, present the trophies and THEN we can paint the town! Stay with us until then and we'll bring you all the news from the pits plus live racing results action, provided the lad with the internet connection turns up...............
The lad with the internet connection did turn up, of course you know th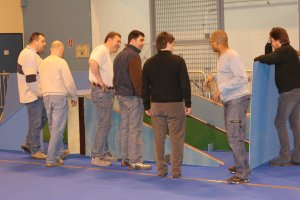 is. He installed some boxes, we could not connect to them, he went away, we changed some things and then we did connect and lo, we had a connection to the outside world. For a while. Then the Volley Ball team turned up and we left for a couple of hours. Since we got back all evening the network has come and gone away again. Its now 23:27 and the carpet is being taped down. the jumps still need to be built.......... Its a little over 8 hours before the doors open to the drivers...... If we have a stable network tomorrow you will get results and news.
Saturday at 6:30am! After a WHOLE 4 Hours in the Hotel room, its back to the track! The usual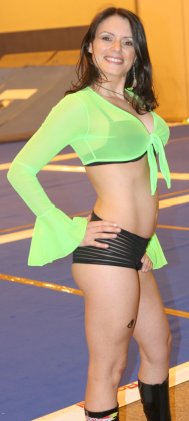 pre meeting chaos is resolved and at 9am we start timed practice. Two rounds then initial heats are sorted with drivers seeded on best 3 consecutive laps in practice. Three rounds of heats then the top 32 in 2wd and 4wd and all the trucks are put in 5 Head to Head (a.k.a. Face2Face) races. The remaining 2wd and 4wd competitors continue in heats for two more rounds. Sounds easy when you say it but with 130+ competitors this takes some time! the track is taking a beating so as the evening wears on we are all ready for a break, the hotel and some sleep. After the first round of Face2Face races, Jörn Neumann tops both 2wd and 4wd, having TQed 2wd Heats and coming second in 4wd Heats. Three more rounds of Face2Face races today and its best 3 from 4 results.
The network continues to come and go so live coverage outside the track will vary. Maybe now France has won a Rugby match it will work a bit better! As I write this at (7am Sunday) its down but yesterday it was up for a while and I managed to win some things on eBay while running the races! I'll try and get some pictures today, but here is one I took last night!
It always takes a lot of effort to start a race meeting, but once started it tends to keep running, but this one seemed to need prodding all the time. Despite the pits being next to the track, getting the drivers out to marshal took forever with the result that one round of Face2Face races were cancelled and the Classic Race Finals were reduced to one leg. Nevertheless there was some fine racing and I managed to get away from the computer to take a few pictures.
As qualifying progressed two drivers seemed to stand out, Kim Sitensky in the Trucks and Jörn Neumann in both 2wd and 4wd. Granted Jörn didn't TQ in 4wd, but he won the 3 out of 4 4wd F2F races and beat Stéphane Deroch who also had 3 out of 4 wins on his qualifying result. In the 2wd F2F he had 4 straight wins.
The final race (The Big Race) was a bit different. There were 12 invited competitors and it was run over 10 minutes. The cars were 10 2wd/4wd and 2 Trucks (at the back of the grid). The countdown started then was interupted "due to a problem". At this point officials ran onto the track, the only one-way jump was removed, the cars were reversed on the grid to a massive cheer from the spectators and the race started. Now at the front of the grid, Kim Sitensky with his GM Brushless powered truck took off like a bat out of hell, initially chasing Stefano Cantoni in an Orion powered B4 and passing him to a resounding cheer. I was expecting Jörn to put on a good show but he retired early in the race. Watch out for further reports, more pictures and of course book in early for next years race!
The wall of death!
Kim Sitensky's Truck
Raphaele Sabia's 4wd Losi.

We like to see a clean OVERTAKING move!
J Concepts with a sore nose

B4, one careful owner, never raced or rallied.

The double hump seemed to cause the most problems. The Height was spectacular, the landings equally so.

Geoffrey Petit's Losi.
Lots of top drivers seem to be driving the Kyosho. This one was driven by Vincent Heligoin.
Jörn Neumann's B4
The Schumacher driven by Jean-François Cave
In GB we have the Londonderry Air, in France they have the Parisian Derriere.
Kim's unstoppable Losi Truck.
Trucks

Ist Kim Sitensky - Losi
2nd Dirk Dauchenbeck - Associated
3rd Olivier Corvilain - Losi

2wd

1st Jörn Neumann - Associated
2nd Lionel Labbez - Associated
3rd Régis Buray - Associated

4wd

1st Jörn Neumann - Associated
2nd Stéphane Deroch - Kyosho
3rd Jean-François Cave - Schumacher